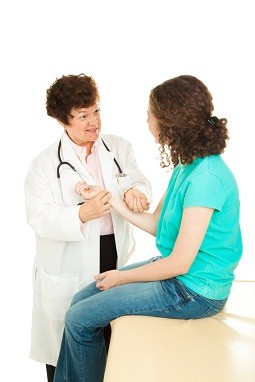 The number of young adults who have no medical coverage has contracted by 2.5 million since the Patient Protection and Affordable Care Act (ACA) took effect, according to a new analysis by the Obama administration.  That decline is 2½ times larger than earlier government and private estimates, which showed about one million Americans ages 19 – 25 had acquired coverage.
Obama administration officials said they now have more comprehensive data and are slicing the numbers more precisely than the government typically does, in an attempt to identify the impact of a popular provision in the law.  Thanks to the ACA, young adults can remain on their parents' health insurance plans until their 26th birthdays.  Families have flocked to sign up their offspring, making the transition to work in a challenging economic environment a bit easier.
"Thanks to the Affordable Care Act, 2.5 million more young adults don't have to live with the fear and uncertainty of going without health insurance," said HHS Secretary Kathleen Sebelius.  "Moms and dads around the country can breathe a little easier knowing their children are covered."
"This comparison makes it clear that the increase in coverage among 19 to 25 year-olds can be directly attributed to the Affordable Care Act's new dependent-coverage provision," according to an Assistant Secretary for Planning and Evaluation (ASPE) brief.  "Furthermore, the coverage gain for young adults was entirely due to an increase in private coverage (from 49 percent to 58 percent), with no change in Medicaid coverage during this period."
"The increase in coverage among 19- to 25-year-olds can be directly attributed to the Affordable Care Act's new dependent coverage provision," according to the Department of Health and Human Services (HHS).  "Initial gains from this policy have continued to grow as…students graduate from high school and college."
That age group previously recorded the highest uninsured rate. Now, 26- to 35-year-olds have that dubious distinction by a narrow margin, according to the Centers for Disease Control and Prevention.
According to the HHS survey, nearly 36 percent of Americans ages 19 – 25 — more than 10.5 million people — were uninsured in the third quarter of 2010, before the law's provision took effect.  The majority of employer-based health plans began carrying the provision January 1, 2011.  By the 2nd quarter of 2011, the proportion of uninsured young adults had fallen to slightly more than 27 percent, or about eight million people.
And just who are these young adults?  Some are transitioning from school to work. Others are trying to start their careers by working at low-wage jobs that don't usually come with healthcare coverage.  Some – known as the "invincibles" – pass up job-based health insurance because they don't think they'll need it and prefer some extra money in their paychecks.
Similarly, the National Center for Health Statistics has documented a broadly similar trend, only not nearly as spectacular.  According to administration officials, those statistics do not focus on the change from calendar quarter to calendar quarter, as the new HHS report does.  Instead, they pool data over longer time periods; that tends to dilute the law's perceived impact.
Tags: "Invincibles", Centers for Disease Control and Prevention, Department of Health and Human Services, Kathleen Sebelius, Medicaid, National Center for Health Statistics, Obama administration, Obamacare, Patient Protection and Affordable Care Act