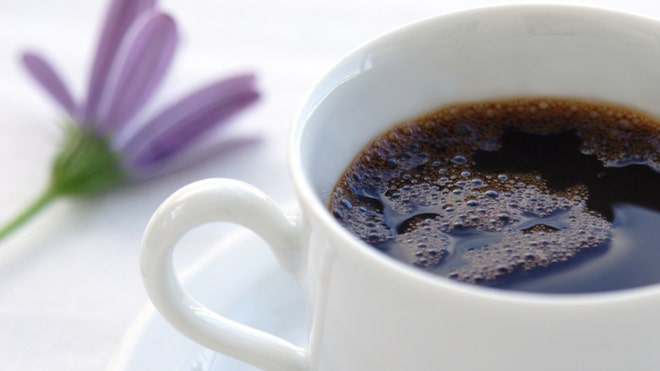 A recent study of the link between drinking coffee and mortality suggests that latte lovers have a lower risk of death. "I would say it offers some reassurance to coffee drinkers," said Neal Freedman, a nutritional epidemiology researcher at the National Cancer Institute (NCI).  "Other studies have suggested a higher risk of mortality with coffee drinking and we didn't see that in our study."
Men whose coffee intake was at least six cups a day had a 10 percent lower chance of dying during the 14-year study period than those who drank none.  For women, the risk was reduced by 15 percent, according to Freedman's work, published in the New England Journal of Medicine.  Approximately 64 percent of American adults drink coffee every day, according to Joe DeRupo, spokesman for the National Coffee Association.  At an average of 3.2 cups each, that amounts to 479 million cups a day.  Coffee lovers can take the new results seriously.  The mortality reduction is modest but solid, Freedman said.
Freedman and his team in NCI's Division of Cancer Epidemiology and Genetics examined the coffee habits of more than 402,000 people between 1995 and 2008, including more than 52,000 who died.  They included approximately 229,000 men and 173,000 women ages 50 to 71 who participated in the NIH-AARP Diet and Health Study, which tracked comprehensive lifestyle questionnaires.  Freedman's analysis centered on healthy people; anyone with cancer, heart disease or who had suffered a stroke was excluded from the review.  "We didn't know what to expect," said Freedman.  "There have been a lot of studies and the results have been mixed."
"There's been concerns for a long time that coffee might be a risky behavior,"  said Freedman, who drinks coffee 'here and there.' "The results offer some reassurance that it's not a risk factor for future disease."
Writing in Time, Marilynn Marchione said that "No one knows why.  Coffee contains a thousand things that can affect health, from helpful antioxidants to tiny amounts of substances linked to cancer.  The most widely studied ingredient — caffeine — didn't play a role in the new study's results.  It's not that earlier studies were wrong.  There is evidence that coffee can raise LDL, or bad cholesterol, and blood pressure at least short-term, and those in turn can raise the risk of heart disease.  Even in the new study, it first seemed that coffee drinkers were more likely to die at any given time.  But they also tended to smoke, drink more alcohol, eat more red meat and exercise less than non-coffee-drinkers.  Once researchers took those things into account, a clear pattern emerged: Each cup of coffee per day nudged up the chances of living longer.  Careful, though — this doesn't prove that coffee makes people live longer, only that the two seem related.  Like most studies on diet and health, this one was based strictly on observing people's habits and resulting health.  So it can't prove cause and effect.  But with so many people, more than a decade of follow-up and enough deaths to compare, 'this is probably the best evidence we have' and are likely to get, said Dr. Frank Hu of the Harvard School of Public Health.  He had no role in this study but helped lead a previous one that also found coffee beneficial."
The study's findings should be viewed with caution.  "For those who do drink coffee, there's no reason to stop.  Periodically someone will say it's bad, but I think this strengthens the view that it's not harmful," said Dr. Lawrence Krakoff, a cardiologist from the Mount Sinai School of Medicine in New York, who wasn't involved in the new research.  "Whether it's beneficial — without knowing the cause, it's hard to say," he said.  "I wouldn't encourage people to suddenly drink a lot of coffee with the expectation of benefit."
Not so fast, according to cardiologist Steve Nissen of the Cleveland Clinic, who wasn't involved in the study.  Asking people about their coffee consumption just one time in a 13-year timeframe can be misleading, since drinking habits change.  Nissen pointed out that the study didn't include vital medical information that affects longevity, such as cholesterol or blood pressure levels.  "This study is not scientifically sound," Nissen said.  "The public should ignore these findings."
The study determined that men who drank two to three cups a day had a 14 percent lower risk of dying from heart disease, 17 percent lower risk of dying from respiratory disease, 16 percent decreased chance of dying from stroke and a 25 percent lower risk of dying from diabetes than those who drank no coffee.  Women who consumed two to three cups a day had a 15 percent lower chance of dying from heart disease, 21 percent lower risk of dying from respiratory disease, seven percent decreased chance of dying from stroke and a 23 percent lower risk of dying from diabetes.
Tags: Caffeine, Cholesterol, Cleveland Clinic, Coffee, Harvard School of Public Health, LDL, National Cancer Institute, National Coffee Association, NCI's Division of Cancer Epidemiology and Genetics, New England Journal of Medicine, NIH-AARP Diet and Health Study