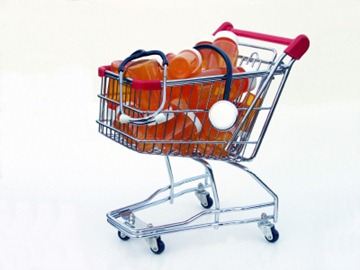 The Department of Health and Human Services (HHS)  has given $185 million to 13 states and Washington, D.C. to help them build Affordable Insurance Exchanges –one stop shopping that lets consumers choose a private health insurance plan that is virtually identical to insurance choices offered to members of Congress.  Since President Barack Obama signed the Affordable Care Act (ACA), more than half of the states have moved forward on building insurance exchanges.  The ACA creates Affordable Insurance Exchanges that will allow eligible individuals, families, and small businesses to shop for coverage beginning in 2014.  HHS plans to make more grant awards over the next several months.
According to HHS Secretary Kathleen Sebelius, "Too many American families have been priced out or locked out of the health insurance market.  Exchanges will give them control and could save them thousands of dollars a year.  I am encouraged by the progress states have made to date and am excited to give them more resources to continue their work."
One state that is seeking guidance on how to set up its healthcare exchange is Nebraska,  which has questions about implementing this provision of the ACA.  According to state health insurance analyst Michael Sciullo, officials still haven't learned the precise details of how the health insurance exchange could be established.  Sciullo is uncertain about whether a Nebraska-run program would carry over to other states, which option is the most cost-effective and how many participants would meet income requirements to join an exchange.  "There seems to be a lot of challenges with the concept," Sciullo said.  "I think initially it was a concept that sounded great, particularly when we talk about the pooling aspect.  But with all the other challenges facing states as they prepare for the exchange process…it's been one of those things that sounded a lot better in theory than has worked out practically." 
Nebraska officials face the challenge of deciding whether the state will join the federal exchange, participate in a regional exchange with other states or create its own exchange.  A regional exchange In Nebraska is not likely because each state has different regulations governing healthcare insurance.  
HHS is encouraging states to set up their own exchanges because a peculiarity in the ACA is that while it gives HHS the authority to create a federal exchange for states that don't set up their own, it doesn't have the authority to provide any funding to achieve this goal.  The irony is that the law appropriates virtually unlimited dollars to help states create their own exchanges.  The federal exchange will have the same authority as the states to impose fees on insurance sold through the exchange once it is open for business.  No money is coming in until people start purchasing insurance, and there is significant work to be done in preparing to create federal exchanges.  "It's very clear that (the HHS) secretary should 'use such sums as may be necessary'" for supporting states in setting up exchanges, but it's "sort of silent" on the federal fallback exchange, said Jon Kingsdale, founding director of the Massachusetts Connector, who advises HHS on setting up the federal exchange. 
The recent announcement that HHS, The Department of Labor, and the Treasury  proposed new rules that will help consumers easily understand their health coverage and determine the best options for themselves and their families.  Additionally, these proposed rules will help employers find the best coverage for their business and their employees.  Under the proposed rule alterations, health insurers and group health plans will give consumers clear, consistent and comparable information about their health plan benefits and coverage.  The new forms, scheduled to be available next year, will be a vital resource for more than 180 million health insurance consumers with private coverage.  "Today, many consumers don't have easy access to information in plain English to help them understand the differences in the coverage and benefits provided by different health plans," Sebelius said.  "Thanks to the Affordable Care Act, that will change."  According to Sebelius, the simplified options have been sent to the nation's governors for their input and approval. 
"Workers and their families need clear and understandable information regarding their health coverage," said Secretary of Labor Hilda L. Solis.  "Today's proposal is a common-sense step that will help workers quickly and easily compare different coverage options, in order to make more informed decisions."  
Writing on the White House blog, Dr. Donald Berwick, administrator of the Centers for Medicare and Medicaid Services, says that "Having affordable, quality health insurance is incredibly important.  But how can you pick the plan that is best for you and your family if insurance plans are written in words you cannot understand or in type so small you can barely read it?  And how can you take advantage of the health benefits you have if you don't know what your plan covers?  You're not alone in your confusion.  Too many Americans don't have access to information in plain language to help them understand the health coverage they have.  Now, thanks to the Affordable Care Act, every American consumer will receive an important new tool to understand their coverage.  Under proposed rules, health insurers and employers who offer coverage to their workers must provide you with clear and consistent information about your health plan."
Tags: Affordable Insurance Exchanges, Centers for Medicare and Medicaid Services, Congress, D.C., Department of Health and Human Services, department of labor, Dr Donald Berwick, Hilda L. Solis, Kathleen Sebelius, Massachusetts Connector, nebraska, Patient Protection and Affordable Care Act, President Barack Obama, Treasury Department, Washington