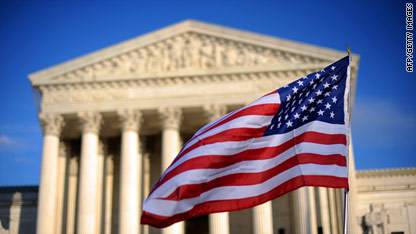 As Virginia seeks review of the Patient Protection and Affordable Care Act (ACA) by the United States Supreme Court, the move hasn't impressed the Obama administration, which is urging the high court to not allow bypassing federal appeals courts.  The administration feels so strongly about a go-slow approach to sending the law to the Supreme Court for a decision on whether it is constitutional that the Department of Justice has filed a brief stating that they are in no hurry.  The brief notes that "Accordingly, granting certiorari before judgment in this case would not necessarily result in significantly accelerating the Court's review of the constitutionality of the minimum coverage provision."
The brief, filed on behalf of Health and Human Services Secretary Kathleen Sebelius, said "Especially given the imminent consideration of this case, there is no basis for short-circuiting the normal course of appellate review."  The move was in reaction to Virginia's Attorney General Ken Cuccinelli's efforts to have its lawsuit bypass the appellate process and go directly to the Supreme Court.  Virginia has appealed regulatory amendments implemented by the healthcare reform law, arguing that federal government has surpassed its powers as defined in the Constitution.  Additionally, Cuccinelli says the Affordable Care Act is an issue of national importance that requires Supreme Court's mandate.  The regulatory amendments include the compulsory purchase of health insurance by citizens, who must pay a penalty if they refuse to comply with the law.
Acting Solicitor General Neal Katyal wrote,  "there is no basis for short-circuiting the normal course of appellate review" and the Virginia case may lack sufficient standing.  Additionally, the case challenges the law's mandate to buy health insurance, which does not go into effect until 2014.  In January, a Virginia federal struck down the mandate and the case now goes to the appeals court level.  In other challenges, a judge in Florida ruled against the whole law; three other federal judges have upheld the law.
Cuccinelli believes that the Supreme Court needs to act quickly to bring balance to differing lower court rulings on the healthcare reform law.  In the unlikely event that the Supreme Court agrees to hear Cuccinelli's case, it probably would not be considered until the new term begins in the fall of 2011.  The Supreme Court has rarely agreed to hear cases prior to full review by the lower courts.
Tags: Commonwealth of Virginia, Constitution, Department of Health and Human Services, Department of Justice, economic growth, federal government, health insurance companies, Kathleen Sebelius, Ken Cuccinelli, Neal Katyal, Obama administration, Patient Protection and Affordable Care Act, United States Supreme Court