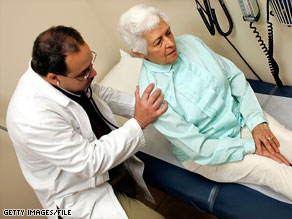 America's senior citizens can breathe a sigh of relief.  Even as the majority Republicans in the House of Representatives wield a surgeon's scalpel to slash spending from the federal budget, they are unlikely to succeed at making significant changes to the extremely popular Medicare program. The Democratic-controlled Senate rejected serious cuts in the proposed legislation, which also included an attempt to block implementation of the Patient Protection and Affordable Care Act.  Congressional Democrats and the Obama Administration pointed out that the Republican budget measure's block on implementation funding would endanger short-term funding for Medicare.
The legislation would create "significant disruptions in services" to Medicare recipients, Department of Health and Human Services (HHS) Secretary Kathleen Sebelius wrote to Senator Max Baucus (D-MT).  The payment delays, Sebelius wrote, would halt the need to undertake a lengthy process to issue new regulations governing Medicare Advantage payment rates since the Patient Protection and Affordable Care Act (ACA) put in place its own set of payment rate rules.  The Congressional Budget Office's (CBO) analysis questioned that claim because it believes that the Republican bill will reduce spending by $1.6 billion through the rest of 2011.  Democrats maintain that the CBO's review of Medicare spending is a separate issue from HHS's lawful authority to fund the program.
Despite the Senate Democrats' united front, House Budget Committee Chairman Paul Ryan (R-WI) is "ready to take on health programs" as legislators on both sides of the aisle struggle with long-term spending concerns.  Lawmakers continue talks regarding the current year spending measure still under consideration.  A new continuing resolution that would fund government operations until April 8 has emerged.  Though it includes deeper spending cuts, it is free of controversial riders such as language to restrict ACA implementation funds.  Meanwhile, the CBO issued a report that legislation designed to further the defunding goal would add $5.7 billion to the deficit.
Democratic leaders insisted that some form of compromise by the House GOP members is now needed. "We're looking for some give on the Republican side," said Sen. Charles Schumer (D-NY).  Speaker of the House John Boehner (R-OH), he said, "needs something to bring his freshmen into the real world."  Boehner, referencing the Democrats and the White House, said "I hope the talks are going to continue, but we are not going to get very far if they don't get serious about doing what the American people expect of us.  "This is not going to be easy.  Our goal, as I've said many times, is to cut spending and keep the government open."
Tags: Congressional Budget Office, deficit, Democrats, Department of Health and Human Services, Federal budget, GOP, House Budget Committee, House of Representatives, Kathleen Sebelius, Medicare, Obama administration, Patient Protection and Affordable Care Act, Representative John Boehner, Representative Paul Ryan, Senate, Senator Charles Schumer, Senator Max Baucus, senior citizens