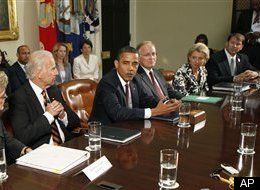 President Barack Obama is calling the states' bluff on implementing the Patient Protection and Affordable Care Act (ACA) by allowing them to opt out of its most onerous requirements three years earlier than currently permitted. Speaking at a meeting of the National Governors Association, Obama specifically pointed to a proposal from Senators Ron Wyden (D-OR) and Scott Brown (R-MA) which he endorsed as a flexible approach.  "If you can come up with a better system for your state to provide coverage of the same quality and affordability as the Affordable Care Act, you can take that route instead," Obama said, noting that, "If your state can create a plan that covers as many people as affordably and comprehensively as the Affordable Care Act does, without increasing the deficit, you can implement that plan and we'll work with you to do it."
The president endorsed the proposal to allow states to apply for "innovation waivers" beginning in 2014, three years earlier than originally scheduled. Under the terms of these waivers, states would be exempt from several of the law's requirements if they set up their own method of adequately expanding coverage.  The "individual mandate" is the focus of multiple state lawsuits by states that contend it is unconstitutional.
The Obama administration has posted a detailed fact sheet on the proposal on the White House website. Additionally, Department of Health and Human Services (HHS) Secretary Kathleen Sebelius has blogged about it.
Despite lingering opposition to the healthcare reform law, the Obama administration is moving ahead with its implementation.  Over the last 10 months, HHS has made $2.8 billion available to states to help them start reforming their healthcare systems.  These funds let the states invest in improvements.  These investments are showing signs of progress thanks to more comprehensive oversight of insurance premium increases, new rights and protections for consumers, additional choices for people living with medical conditions, and the elimination of some of the worst insurance industry practices.
The bipartisan proposal's future is uncertain, with both Democrats and Republicans casting wary eyes at it. Representative Eric Cantor (R-VA), the House majority leader, said the healthcare law is "an impediment to job growth" and that he is still committed to repealing the ACA.  "I was disappointed," said Governor Rick Perry (R-TX) and chairman of the Republican Governors Association.  "Pretty much all he did was to reset the clock on what many of us consider a ticking time bomb that is absolutely going to crash our state budgets.  The states need more than that."  Even some Democrats are cautious because they believe that it is impossible to expand healthcare coverage and reduce the deficit without the federal mandate.  Senator Max Baucus (D-MT) said "We want to give states as much flexibility as possible, but that flexibility shouldn't fail to ensure that Americans in every state have access to quality, affordable healthcare."
Writing in the Washington Monthly, Steve Benen asks "So, how big a deal is this?  It marks a fairly significant departure from the administration's status quo, but at its root, what we're seeing is the White House call Republicans' bluff.  The GOP is convinced it can offer comparable coverage at comparable prices using Republican-friendly policies.  Today, in effect, the president said, 'Be my guest.'  Why?  Because Obama knows it'll take more than tort reform and HSAs to make the system work, and he sees a political upside to watching GOP officials scramble to actually craft their own plans, rather than bash his."
President Obama also made it clear that the federal government is moving forward with healthcare reform. "I am not open to refighting the battles of the past two years or undoing the progress that we have made, but I am willing to work with anyone, governors or members of Congress, to make this law better…and fix what needs fixing," Obama said.
Tags: "Innovation waivers", 1099 problem, Department of Health and Human Services, Federal mandate, Flexibility, GOP, Governor Rick Perry, Governors, Healthcare law, healthcare reform law, House of Representatives, Innovation waivers, Kathleen Sebelius, National Governors Association, Patient Protection and Affordable Care Act, President Barack Obama, repeal, Representative Eric Cantor, Republican Governors Association, Senator Max Baucus, Senator Ron Wyden, Senator Scott Brown, Steve Benen, Unconstitutional, Washington Monthly, White House website