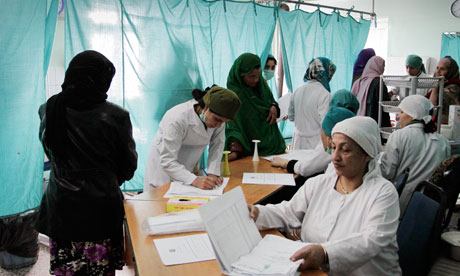 In the latest episode of the Chuck Lauer Show, presented by Alter+Care, the former publisher of Modern Healthcare discusses providing healthcare in a war zone with Rob and Lisa Werner, who spent nearly four years living in Afghanistan from 2005 to 2009 and working in healthcare.
At first, the Werners settled in Mazar i Sharif, Afghanistan's fourth largest city, where Rob worked in tuberculosis control.  In that capacity he worked with community-based programs applying government initiatives to cure patients.  After 1 ½ years, Rob was offered a job as advisor to the manager of a women's hospital in Kabul to oversee a grant that funded the creation of vital new programs.
Afghanistan has one of the world's highest child and mother mortality rates, underscoring a need for improved maternal care.  At that dime one in six women would die due to complications of childbirth.  Only 13 percent of babies were delivered in hospitals or with any sort or trained medical personnel, such as midwives.  During her time in Afghanistan Lisa didn't meet one woman who had not lost a child in her family.  One in four children would die before the age of five.  The medical priorities seem very basic to Americans familiar with modern healthcare delivery.  According to Rob, "Before we set up an oncology center, we said, we should do something about all the kids dying of diarrhea."
Medical education is not entirely absent from Afghanistan.  For example, there is the Kabul Medical University and a few smaller schools elsewhere in the country.  The level of education they provide varies widely.  Many aspiring physicians study in Pakistan because the facilities there are better, and there are more medical resources.  Afghani nurses tend to function as patient attendants and have minimal exposure to such disciplines as pharmacology.
Although Afghanistan has been at war for decades – with the Russians in the 1980s, various warlords in the 1990s and the Taliban through 2001 – the Werners may one day return.  Their three young children are in favor of it.  In Kabul, the Werners lived in an Afghan neighborhood where most people were going about their business and daily lives.  According to Rob, "Once we got over there and got to know people we found that they are just like us – they want to raise their kids, send them to school, see them get a good education and job, marry and have kids of their own.  The majority just want to live a peaceful life."
To listen to the full podcast, click here.
Tags: Afghanistan, Chuck Lauer, Healthcare delivery, healthcare industry, Kabul, Kabul Medical University, Mazar i Sharif, Midwives, Modern Healthcare, Mortality rates, Rob and Lisa Werner, Tuberculosis control