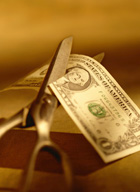 To control soaring Medicaid costs,  several states have started the new fiscal year by cutting payments to doctors, hospitals and other healthcare providers that treat the poor.  Some experts say the cuts could add to a shortage of physicians and other providers participating in Medicaid.  "Further depressing payment rates can only worsen the situation," said Sara Rosenbaum, chair of the health policy department at George Washington University.  She says some states cutting rates — South Carolina, for example — already have acute Medicaid physician shortages.
Insurers and employers believe that cutting the rates will prompt providers to raise their prices for patients who have private insurance.  "It's always a concern that when providers get less from Medicaid, that they will shift the costs to private insurance so families and employers pay more," said Robert Zirkelbach, a spokesman for America's Health Insurance Plans (AHIP), the healthcare industry's lobbyist group.
States reducing Medicaid payments to physicians are Colorado, Nebraska, Oregon and South Dakota.  Arizona, which cut rates in April, will impose another cut in October.  States reducing payments to hospitals include Colorado, Connecticut, Florida, Nebraska, New Hampshire, North Carolina, Oregon, Pennsylvania, South Carolina, Texas, Virginia and Washington.  New York cut hospital payment rates in April.  In March, California okayed a 10 percent Medicaid cut to doctors and hospitals; those reductions are pending because of a lawsuit that has not yet been resolved.
The payment cuts, which require federal approval, are part of an effort by states to cut Medicaid costs, typically the largest- or second-largest expense after education.  A joint state-federal program, Medicaid serves more than 50 million low-income and disabled Americans.  Under the provisions of the Patient Protection and Affordable Care Act (ACA), more than 16 million more people will become eligible 2014, with the federal government picking up the majority of the cost.  To lure more physicians to accept Medicaid patients, the law raises rates for primary-care physicians in 2013 and 2014 to match those paid by Medicare.  On average, states currently pay Medicaid providers approximately 72 percent of what Medicare pays.
Federal-state Medicaid costs totaled $366 billion in fiscal 2009.  The federal stimulus package gave states $100 billion to help pay their share, but that funding ended June 30, and "states are struggling," said Laura Tobler, a policy analyst at the National Conference of State Legislatures.  The ACA does not allow states to restrict eligibility for the program.
Because of cuts in reimbursement, the Government Accounting Office (GAO) has found that fewer physicians are accepting children on Medicaid as patients.  More than 75 percent of 932 doctors surveyed by the GAO reported difficulty when referring children with public insurance for specialty care, citing an overall shortage of specialists, and different waiting lists for children receiving Medicaid or Children's Health Insurance Program (CHIP) benefits than children covered by private insurance.  In 2010, more than 40 million children in the country received healthcare through one of the two programs which cost $79 billion in federal and state funds.  Physicians serving rural areas are more likely to accept new patients with Medicaid and CHIP than doctors in urban areas.  Rural primary-care doctors reported greater difficulty referring their Medicaid and CHIP patients to specialists than urban physicians.
Writing in Forbes, Avik Roy says that "The real problem, however, is that many physicians don't accept Medicaid patients, primarily because Medicaid underpays them for their time and costs.  The Health Tracking Study Physician Survey found that internists are 8.5 times as likely to reject all Medicaid patients versus those with private insurance.  The New England Journal of Medicine recently published a study showing that 66 percent of Medicaid children were denied an appointment with a specialist for an urgent medical condition — such as uncontrolled asthma or seizures — compared to only 11 percent for the privately insured.  What makes this even more appalling is that we're spending billions of dollars to take millions of children away from high-quality private insurance, and shoving them in Medicaid instead.  As Peter Suderman notes, the Congressional Budget Office has estimated that of the children who have been added to Medicaid's sibling, the State Children's' Health Insurance Program (CHIP), one-quarter to one-half were adequately covered by private insurance beforehand."